Last updated on October 4, 2019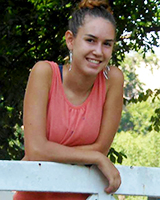 We're so excited to introduce you to one of the winners of our fall student blogger contest, Amber Smith! She will be blogging throughout the semester about college, her classes, her future plans and more. Here's more about Amber, in her own words:
At any college, you wouldn't normally find many students that are 15 or 16. Unless you are at Richland College and a part of the Richland Collegiate High School.
As a junior in high school, I would normally have a schedule full of AP classes and pep rallies to prepare for. But I am not like normal juniors. I am a part of an amazing program that will let me walk the stage with my high school diploma and an Associate in Sciences degree.
After several trips to the campus to fill out forms and get advised about my schedule, the day for Duck Camp arrived. Imagine nine hours straight of lectures on the importance of taking Cornell Notes! Let's just say I was ready for classes to actually start.
I already knew quite a few people attending RCHS but making new friends here turned out to be incredibly easy. Everybody is extremely nice and considerate. From helping each other do homework and study to joking around at lunch, I really feel like Richland has an atmosphere where people can grow.
Besides being at Richland, I enjoy playing sports and being outside as well as making YouTube videos for my hairstyle tutorials. I think that getting an education is important, but having fun while doing so is even higher on that list. At my old public high school, I was confined to the teacher's specific instructions, but at Richland I can take what the professor tells me and create my own ideas and thoughts from it.
Since the first few weeks of fall semester, I have gotten to know the people in my classes and become friends with them. It is such a good feeling when you meet someone new and you know that you will get along well. Even though I miss my old friends, I know that they will always be there to support me and have a little bit of fun on the weekends.
Goodbye for now!
Amber Smith
***Read past student blogger posts, and stay tuned for more from our fall student bloggers throughout the semester.