Last updated on October 4, 2019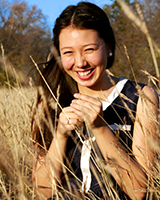 We're so excited to introduce you to one of the winners of our spring student blogger contest, Betty Tuttass! She will be blogging throughout the semester about college, her classes, her future plans and more. Here's more about Betty, in her own words:
Hey, everyone!
My name is Betty, and I am absolutely delighted to be one of DCCCD's new student bloggers for the spring semester! I am currently a North Lake College student with a major in psychology. After graduating from Flower Mound High school in 2013, I looked for a college that was affordable and close to home and made the decision to spend my first two undergraduate years at North Lake.
It has been a long road to get to North Lake because I was born in Germany and moved to the U.S. just three years ago. I grew up bilingual, speaking German and Korean, and quickly added on my third language, English! Over the course of time, I also ended up studying Latin, Italian and, just recently, French.
If I'm not practicing my French, I usually spend my free time working at a local Montessori school as an afternoon school teacher where I conduct my very own classroom of primary-age children. I spend the rest of my time playing piano, cuddling with my cats or attending the Village Church in Flower Mound.
I also have a wide variety of interests that range from photography and music all the way to film editing. However, it's North Lake that takes center stage in my life.
I find North Lake to be a place where I am able to learn, grow and succeed by being surrounded by caring peers, genuine professors and the most patient and understanding staff members.
Nowhere else have I received as much motivation, understanding and, most importantly, acceptance than at this campus. Nowhere else have I seen professors hug their students after class. And nowhere else have I seen the same professors lecture with an unmeasurable amount of passion and desire to plant new knowledge in a future generation.
Without any doubt, I have chosen the right path.
Until next time,
Betty
***Read our past student blogger posts, and stay tuned for more from our spring student bloggers throughout the semester.